by twinink on August 15, 2010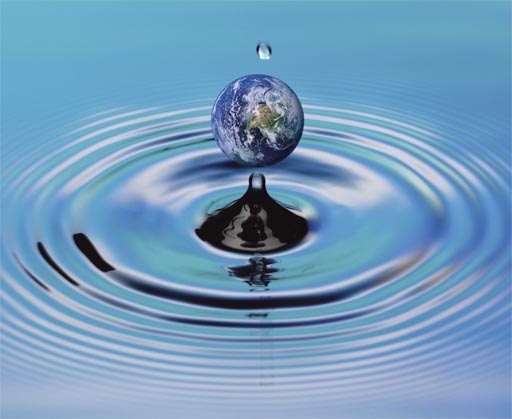 I've been thinking a lot lately about water conservation.  I don't know what it is, but everywhere I look I seem to see copious amounts of water slipping silently away.  Whether it's that incessant, Chinese-water-torture drip of my leaky faucet.  Or that broken lawn sprinkler shooting it's Old Faithful geyser arc into the uncaring sky as I jog by.  Or it's my mom running the sink 2 agonizing, wasteful minutes while the water heats up enough to rinse the dishes enough to put them into the dishwasher on high setting.
And the worst part is, nobody else seems to notice.  It's like I have some strange hypersensitivity to water being wasted.  I don't know what's wrong with me.  If I were a superhero, I'd be Aqueous-Boy, surging to the rescue whenever a water main breaks or an evil golf course overwaters it's perfectly manicured Kentucky-blue grass.  But alas, such superpowers elude me.
And so I have to turn back to the little things I can do to make a difference.  Like replace the washer in my leaky faucet.  Or lecture my mom for the umpteenth time on the merits of mindfulness.  Or call the water department when I spot a spouting sprinkler, instead of just jogging past… or staring like the hundred other gawkers and commenting, "god, what a waste of water!" (don't just stand there people, do something!).
There is a whole wealth of useful information online, with very easy steps to help you reduce your daily water outflow.  If you don't believe me, check out Eartheasy's 25 water tips.  Or SuperForest.org's Toilet hack post.
But to be honest, water conservation usually comes upon us in short-lived flashes of guilt, when we realize that perhaps we left the hose running too long…or when we see news footage of dehydrated children in East Africa.  The truth is, it's easy to take water for granted.  It's always on tap, it's plentiful, it requires no effort.  In order to stay permanently cognizant of the water we use, we need to completely reprogram our brains.  Here's what I suggest…
Every time time you turn on the faucet to drink water, or wash the dishes or take a 15 minute shower… imagine that you had to pump that water yourself.  Envision in your mind, a long, dry walk to a deep, dark well.  The parched ground burns your feet.  Your skin cracks and blisters as you crank the pump up an down.  The water comes slow and in a trickle.  You fill your heavy jugs, and then have to lug them nearly a mile back to your house… where the dishes await washing and your wife demands her nightly bath.  Think of all the water you will use tonight alone.  How many trips back and forth to that well will be required?
Use your imagination a little.  Retrain your brain to recognize how precious each drop is.  It's a very small thing to do, and you can do it entirely in your head in a single second.  But I promise you, every time you turn on the faucet you will feel the weight of those jugs biting into your shoulder.  And you will never unconsciously let that water go again as you brush your teeth or shave your legs.
Every single drop is precious.  Respect the flow.  Treat your water with love.
Warning
: count(): Parameter must be an array or an object that implements Countable in
/nfs/c06/h03/mnt/86879/domains/kandellbrothers.com/html/wp-includes/class-wp-comment-query.php
on line
399